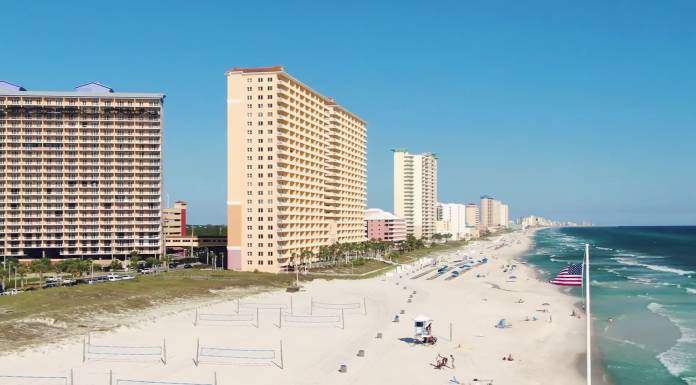 Panama City Beach is one of America's top vacation destinations right now.
Whether you want to take a stroll on the beach in the sun, listen to live music, go snorkeling, or eat chargrilled grouper. When visiting Panama City Beach, you will find plenty of things to do.
The following travel guide will help you plan your Panama City Beach vacation.
Why Go to Panama City Beach? – Visitor's Guide
The main reason to go to Panama City Beach, is for the beaches with its emerald green waters. There is a reason travel magazine said the PCB has the "Most Beautiful Beaches in the World". But, there are also many great restaurants and activities.
Panama City Beach is a tourist town, and not ashamed of it. There are incredible  water activities like parasailing, boating, fishing, jet skiing, shopping and more.
Best Time to Visit Panama City Beach Florida
The best time to visit Panama City Beach is… whenever you can travel there. Seriously. There is something to do year round. Many families come to the area several times a year.
Even when the temperatures are cooler, you will see visitors walking along the beach. They may be in jackets, but a cool day at the beach beats a day anywhere else farther to the north. That's because if it's cool in Panama City Beach, then you can bet it's freezing up north.
Many families prefer to visit in spring or fall. The weather in the Florida panhandle is warm and not too hot. Not only is the weather great during these periods, but the crowds are lower. And, you can really find deals for places to stay.
My favorite time to visit is in October or April. To me, the mix of warmish temperatures and lack of crowds is heaven.
But, there are special events going on all year long. So, check the calendar to make sure you don't overlap
In late October, Panama City Beach has 'Bike Week'. So, if you don't want to be around thousands of bikers, then it may not be the time for you. I've been to Panama City Beach Florida during Bike Week. Aside from the noise, it was a fun time.
If you go during mid November, you may be there during the Emerald Coast Cruizin' Car Show. This is a wonderful time of year. The streets are lined with classic cars. The owners have their cars parked everywhere with their hoods up to show off the engines.
Thousands of classic cars, hot rods, custom cars and trucks are making their way to beautiful Panama City Beach! Don't miss the Emerald Coast Cruizin' Car Show from March 6 – March 9 at Aaron Bessant Park. pic.twitter.com/FXwQyoJQza

— Calypso Tower lll (@CalypsoTowerlll) March 7, 2019
Because the classic car owners are usually older men, it's one of the quietest times you will find at a beach town.
Surprisingly, many people avoid Panama City Beach during the summer because it's the area's busiest time. You will find huge wait lines for dining, pricey accommodations, and stand still traffic. The crowd problem is not limited to just PCB. All popular beach towns have the same issues when it's on-season.
What About Spring Break?
In 2016, local officials put the brakes on college students going wild at their beaches. While they couldn't outlaw spring break, they put rules in place to make PCB less attractive.
So, during the month of March, here are the rules:
No alcohol on the beaches
No alcohol in commercial parking lots
All alcohol sales end at 2:00am
No Open House Parties
No Parking in Closed Business Parking Lots
Overnight scooter rentals are not permitted
These Spring Break rules go into effect on March 1st and continue until the end of the month.
By closing the bars early and not allowing people to drink on the beach, it has driven a lot of college aged students away from Panama City Beach.
Where to Stay in Panama City Beach
Where to stay depends on your budget and if you have a car. Also, it depends if you want to stay on the beach (and hear the sounds of crowds and crashing waves), or if you want to stay a little ways off the beach.
If you don't have a car then you will want to stay on the west side (close to Pier Park) or more centrally located (near Laketown Wharf Resort). You will be able to walk to the beach and lots of places to eat at either spot.
If you are staying in east Panama City Beach, you will want easy access to a car.
Where to Stay in West Panama City Beach
The western part of PCB is where Pier Park is located.
If you don't have a car, then you will want to stay along Front Beach Road between Pier Park and Gulf World. You will be able to walk to many places to eat. The downside is that there are no major grocery stores within easy walking distance. However, Walmart and Target are about a mile away, so it's not too far (if you're energetic).
The closest resort to Pier Park is The Calypso Resort and Towers. From there you right across the street from Pier Park and can get to dozens of places to eat within minutes on foot. Calypso is upscale as is Osprey on the Gulf and Aqua Beach Resort. Both just a few yards away down Front Beach Road.
About half a mile east of the pier is the Hampton Inn & Suites. It's owned by Hilton, so if you have Hilton status, then it's a no brainier. It's my go to hotel for PCB.
But, just next door is hidden gem called Continental Condominiums. It's an older low rise condo complex of mainly studio units. After Hurricane Michael, the building underwent a multi-million dollar restoration project. All the units are now owned by individual investors, and most of them have totally remodeled their units. So, you will be staying in a place that's like new.
The upshot is this, you can rent a clean small condo with a kitchen, on the beach for not a lot of money. Off-season, you can probably get a place for well under $100 a night.
And, the view from your balcony will be the same (if not better), than any mansion on the beach. It's the perfect place for a couple on a budget. And, compared to the mega-condominiums – you won't have to wait on an elevator. Just take the open stairway, because the beach is only a couple floors down.
Where to Stay in Central Panama City Beach
The central part of Panama City Beach is where Front Beach Road Meets Thomas Drive. Both are beach front roads. Front Beach to the west and Thomas Drive to the East.
If you know where Pineapple Willy's is, then you know the spot. The two largest condo complexes are Shores of Panama and Laketown Wharf Resort. If you stay close to either of those places, then you can walk to the beach or to a great number of places to eat.
There's also a Walmart Supercenter just across the street.
Where to Stay in East Panama City Beach
In the eastern part of Panama City Beach is where you will go if you plan to do any type of boating. It's where Captain Anderson's Marina, Treasure Island Marina, and the Marina at St. Andrews State Park are.
There used to be the Bay Point Yacht Club Marina, but it was destroyed during Hurricane Michael and is currently getting rebuilt.
There is almost no public transportation on the east side near the beach. So, it's best to have access to a car (or motorcycle) in this area. The attractions, beach and stores are spread out making it hard to eat or shop on foot while on your beach trip.
The area has mainly older condominiums on the beach. But, don't let that turn you away. Many of the units have been remodeled. One of my favorite condo complexes is Regency Towers. It is older but it has a lot of amenities like a large gated parking lot, two pools (one heated, one not), a hot tub, and is right on the beach.
There are only three major hotels and none of them are on the beach. There is the Hampton Inn (2909 Thomas Dr, Panama City Beach, FL 32408), Marriott's Legends Edge at Bay Point (4000 Marriott Drive Box 27819, Panama City, FL 32408) and the Sheraton Panama City Beach Golf & Spa Resort (4114 Jan Cooley Dr, Panama City Beach, FL 32408)
The Hampton Inn is the most affordable, because the Marriott and Sheraton are golf resorts and on the Bay.
Where to Eat in PCB while on Vacation
Besides the beaches, the food is the best part of a Panama City Beach vacation.
For fine dining (yet casual) or for a romantic night out, try these places:
Firefly
Grand Marlin
Saltwater Grill
For Family friendly fine dining I would recommend:
Captain Anderson's
Angelo's Steak Pit
Dat Cajun Place
For Casual Dining on the Beach:
Schooners
Pineapple Willy's
Harpoon Harry's
Barefoot Hide-a-Way Grill
Hook'd Pier Bar & Grill (closing permanently soon)
Best Breakfast in Panama City Beach:
Another Broken Egg
Andy's Flour Power
All American Diner
The Pancakery
First Watch
Blue Top Waffle Shoppe (a locals favorite)
If you eat gluten free, Another Broken Egg has a really good GF free waffle. And check out guides to PCB's best gluten free pizza and GF hamburgers.
There are also some excellent hamburger places and donut shops in the area.
Transportation: Getting Around Panama City Beach
The public transportation in Panama City Beach is called the Bay Town Trolley. It's designed shuttle workers from Panama City proper across the hathaway bridge to their jobs at the government complex buildings, Pier Park, and the Magnolia Beach Road VA Clinic.
For tourists, the Bay Town Trolley is only useful going up and down Front Beach road between Pineapple Willy's and Thomas Donuts.
If you flew into Panama City Beach and landed at Northwest Florida Beaches International Airport (ECP) then it's easiest to rent a car there. The airport has most of the big companies – Thrifty, Budget, Enterprise/National, Dollar Rent-a-Car, Hertz, Alamo, and Avis.
If you are already in town there are three major rental car agencies:
Enterprise (557 Richard Jackson Blvd Ste B, Panama City Beach, FL 32407)
Hertz (9998 Hutchison Blvd, Panama City Beach, FL 32407)
Avis (8027 Front Beach Rd, Panama City Beach, FL 32407)
Rent a Pontoon Boat and Visit Shell Island
Renting a pontoon boat is one of the most popular things to do. And the most popular thing to do on a boat is visit Shell Island. We have written an extensive guide specifically on renting a pontoon boat in Panama City Beach.
If you don't want to rent a boat and still want to visit Shell Island, then try one of the many ferry services. That way, you will have access to a bathroom, drinks and food while on the voyage.
Take a Dolphin Sunset Cruise
The Gulf of Mexico and Saint Andrews Bay are full of dolphins. And, dolphins love to interact with people on boats. So, one of the best family activities in Panama City Beach is taking a dolphin cruise, especially at sunset.
Here are some of the top dolphin sunset cruises in PCB.
Flipper Dolphin Tours
Sunshine Water Sports
Blue Dolphin Tours
Sea Screamer
Visit St. Andrews State Park
St. Andrews State Park is one of the best parks in Florida. It ranks #1 on many lists, and for good reasons.
The park is run by the Florida Department of Environmental Protection and has many facilities to keep you busy during your visit including campsites for those who would rather rough it as well as cottages.
The park has it's own marina with a boat ramp. You can rent kayaks, canoes and paddle boats.
But by far, most people go there for the beaches on both the ocean side and the bay side.
On the Gulf of Mexico side of the park, you have a pier and access to beach. There is a small store that is open on-season, bathrooms, and a foot washing station.
If you go at sunset, you are likely to see a beach wedding taking place beside the pier.
There is also Jetty Beach. It's the beach on the St. Andrews Bay side of the park.
Jetty Beach is the perfect place for small children as the man-made jetties have created s shallow pool of calm waters. This also makes it perfect for snorkeling.
Don't worry, you have to chose which beach to go to. The beaches connect at the Jetty Gazebo.
Fun Family Activities in Panama City Beach
In addition to St. Andrews State Park, the entire family will enjoy attractions like WonderWorks, ZooWorld, and the Ripley's Believe It or Not museum.
Also, a miniature golf course is a fun family activity. PCB has Coconut Creek Family Fun Park, Pirate's Island Adventure Golf, and Shipwreck Mini Golf.
Shop and Eat at Pier Park
Pier Park which has become one of America's favorite shopping and entertainment destinations with more than 150 stores, restaurants and bars – something for everyone. And, there is ample parking on the west side of Pier Park.
The Grand Theatre 16 is the only movie theaters in Panama City Beach. It's upscale with cushioned reclining seats.
The SkyWheel is a popular tourist attractions. You can see almost all Panama City Beach from the top, including the Gulf.
There are many boutique stores, ice cream shops, and places to eat along South Pier Park Drive that runs through the center of the complex.
Top places to Eat in Pier Park:
Margaritaville
Dick's Last Resort
Tootsie's Orchid Lounge
Paula Deen's Family Kitchen
Pompano Joe's Seafood House
North of the park there is an outdoor shopping mall with Anchor stores like Dillard's, Marshalls and Old Navy.
The north area is the area where you will find lots of chain stores and places to eat like McDonald's, LongHorn Steakhouse, Chipolte Mexican Grill, and more.
How to Save Money in Panama City Beach
Because it's a tourist town, it can be a bit more expensive than everywhere else.
Unfortunately, the local businesses don't seem to be big on Groupon. While it's worth looking for a bargains on their app, so expect to find much.
Get Discounts on Lodging
The biggest place to trim the vacation budget will be on lodging. So, don't rent a bigger place than you need. If you are a couple, or have only a small child, consider renting a studio condo and not a one or two-bedroom condo.
Think about how you will be using your accommodations. Will you be at the beach most of the time and in the room only when sleeping?
Do you know someone that already owns a house or condo that you can book direct and avoid the hefty fees?
You can consider getting a hotel branded travel card and using the bonus sign-up points to pay for your hotel room.
Once you find your best rate, call the hotel directly and ask if they have any specials or discounts. You can get veteran discounts, senior discounts, and some you may not even be thinking about.
If you are booking using VRBO or AirBNB, ask the owner if they offer any discounts. I own some AirBNB properties myself, and I can tell you that I hate when I'm asked for a discount. But, if you contact enough owners, someone may give you a sweet deal.
Travel Across Hathaway Bridge to Save
Panama City Beach is a tourist town with tourist prices. But if you leave the area and drive across Hathaway Bridge, you will be in Panama City proper. Here you will find lower prices on some items.
Panama City Beach only has a handful of places to buy groceries. These are Winn-Dixie, Publix, Walmart and Target. However, the cheapest place for groceries is across the bay at Piggly Wiggly Food for Less.
Also across the bridge is Tudor's Biscuit World. It's been voted the best place for breakfast in Bay County four years in a row. And, it's the cheapest place for breakfast that I've found. I could eat there everyday.
When you buy groceries, do not over buy. Whenever I travel, I always plan to save money and cook dinner every night. Ha! We wind up grabbing food on the go (even if it's McDonald's dollar meal items) and throwing away lots of food from the freezer at checkout time. So, only buy two days of food at a time.
Is Panama City Beach Safe to visit?
Yes, Panama City Beach is very safe.
As a travel reporter, I often look at crime stats before booking a hotel or visiting an area. The problem is that most stats on the internet are auto-generated and don't take into account non residence in their reporting.
According to the Panama City Beach government, PCB gets 4.5 million visitors per year. And the United States Census Bureau puts the population at 18,000. So when some sites report the crime rate, they make their per-capita calculations based off the population of residence and don't include the much larger group, which is the visitors. Therefore, things like the per-capita of DUI arrests will seem high since it's based off a small population.
Also, the air quality is good and the pollution is low.
There are some things you need to be careful about.
First, Front Beach Road is not very well lit. So, be careful when walking at night. And, also be careful while driving at night. Many people tend to just walk across the street (in the dark) without looking while wearing all black clothing. It's like they are wearing an invisible man costume.
Second, pay attention to the flags on the beaches in Florida. Double red flags means the water is closed to the public. You are not allowed to swim and technically you can't walk along the beach with your feet in the water.
A single red flag means there is a high surf or very strong currents that make swimming dangerous.
Don't ignore a purple flag (Dangerous Marine Life). The last time I saw a purple flag and still went into the water, I was greeted by several jelly-fish which which stung my legs several times.
Generally, you will have a yellow flag when the water is calm. I have not seen a green flag in years. Probably because the local officials see it a legal liability to put up a green flag declaring the water safe to swim.
Panama City Beach Bucket List
It will be near impossible for Panama City Beach visitors to do everything on their first visit. So, here's a bucket list of must-do things.
If you don't get them all done this visit, you can always do them on the next.
Shipwreck Island Waterpark (with the Lazy River)
Russell Fields City Pier (you can fish without a fishing license)
Sea Dragon Pirate Cruise
Race City
Swim with the Dolphins at Gulf World
Wine Tasting at Panama City Beach Winery
Take a Helicopter Ride over PCB
Take a day trip to the 30A area (The Hamptons of the South)
This Panama City Beach Visitor Guide is updated often.