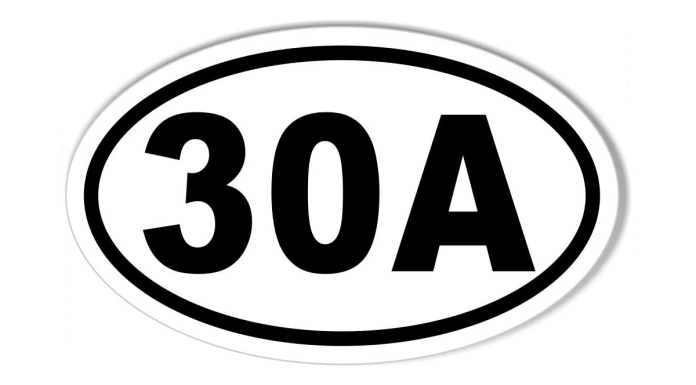 30A is an area in South Walton County Florida between Destin and Panama City Beach.  It's known as the "Hamptons of the South" because it attracts celebrities and the wealthy.
It gets the name "30A" because it's along the scenic Highway 30A. This is a county road that runs along Florida's gulf coast. The road parallels Highway US 98 and is named after Hwy 98's mile marker 30.
The Florida 30A area is a collection of several small beach communities. While there are developments and towns, there are no official cities. Each area has its own look and feel which is what makes it one of the most unique areas of Florida.
When guests are done relaxing on beautiful white sugar sands beach they can head right down the road to Destin or Panama City Beach for thrilling boat rides. You can sail out into the Gulf of Mexico where dolphins swim just a few feet from the boat.
According to VisitFlorida.com, there are 28.5 miles of beaches along 30A.
The most popular destinations are Rosemary Beach, Alys Beach (pronounced Alice), Seaside, and Santa Rosa Beach.
Rosemary Beach Florida along 30A
Rosemary Beach Florida is a Beach it is one of the fastest growing towns in the country. The area is dotted with rosemary plants. This is how the area got its name.
Rosemary Beach is located in Florida's panhandle. It feels like a small town but has the convenience of nearby shopping and access to activities you would expect from a larger area.
It's a popular tourist destination because of it's upscale shopping and dining.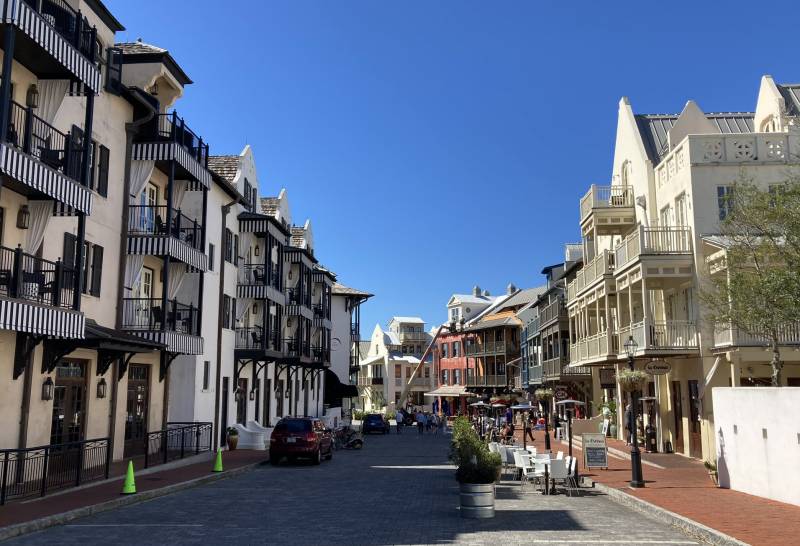 The beach community has been recognized nationally for its excellence in development, design and cohesiveness. It has been awarded the highest national honor from the Community Associations Institute (CAI), The Distinguished Development Award, or "Cadu", seven times. In addition it has won the National Award of Excellence in three different years.
Rosemary Beach was also named Florida's Best Residential Community for three consecutive years by a panel of judges picking from a field of 30 communities across the state.
Alys Beach
Alys Beach Florida is a 30A Destination that is popular for its luxurious hotels, private residences and high-end shopping. The affluent beach community is just west of Rosemary Beach in Walton County Florida.
Alys Beach, a European-chic coastal town between Destin & Panama City Beach, is home to turquoise waters, white sands & unique coastal architecture that would make anyone swoon. 💙 Add this dreamy spot to your next trip to Florida. #LoveFL

📷 IG: alysbeachfl
📍: Alys Beach pic.twitter.com/WaF2OsuSo1

— VISIT FLORIDA (@VISITFLORIDA) December 26, 2021
The homes at Alys Beach are some of the most expensive in the United States. Many homes are valued from $4 Million to $15 Million Dollars. The luxury of Alys has attracted celebrities such as Tiger Woods, Shaquille O'Neal and a number of professional sports players.
If you are looking for the perfect place to take Instagram selfies, Alys Beach is the place. All the home are required (by law) to be white. And, all structures are designed by only two female architects.
Seaside
Seaside Florida is a 30A beach community that offers a laid-back, relaxing beach experience. The area has everything you need for a great vacation: beaches, outdoor activities, and lively entertainment.
Seaside is best known as the location for Jim Carey's movie The Truman show. The studio needed a town that was too perfect and beautiful to be true. So, they found what they wanted in Seaside. Right on the Florida panhandle on 30A
The town of Seahaven Island from The Truman Show is a real place (planned community of Seaside, Florida) that looks every bit as fake as in the movie and I often wonder how people live there without checking if there are actors doing loops around the block every day. pic.twitter.com/5CTpqSPDt8

— Kyle, W*rdle Avoider (@BoldlyBuilding2) November 15, 2020
There are many locally-owned shops and restaurants along Seaside's Highway 30A. The area has local artists and authors readings at many of the shops in town.
Also, Seaside has some great trails for hiking as well as biking.
Santa Rosa Beach
Santa Rosa Beach truly epitomizes 30A with gorgeous white sugar sand beaches, boutique shopping, top notch dining options from rustic waterfront bistros to chic sushi spots.
Its beaches stretch as far as the eye can see in both directions. So, there is enough room between them that just about anyone can find a secluded spot.
Other 30A Destinations
Blue Mountain Beach
Dune Allen Beach
Grayton Beach
Inlet Beach
Seacrest Beach
Seagrove Beach
Watercolor
WaterSound Beach