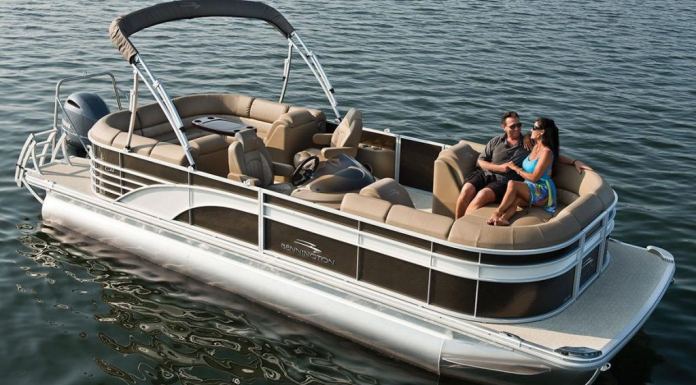 Renting a pontoon boat in Panama City Beach Florida is one of the most popular activities for tourists when they visit.
Pontoon boats are the most popular boat to rent because they are about the only type of boat you can rent.  Very few companies in Panama City Beach will rent anything else (except for Jet Skis and some fishing boats). This is because pontoon boats are inexpensive, easy to operate, and most importantly – cheap to repair after collisions or damages by operators.
Renting a Pontoon Boat in Panama City Beach Florida – What You Need to Know
One of the first things you need to know is that there are two major bodies of water in Panama City Beach – The Gulf of Mexico and Saint Andrews Bay.
Since most boat rental companies will not let you take their crafts out into the gulf (the ocean), you mainly need to familiarize yourself with St. Andrews Bay. And should also get to know smaller bodies of water like the Lower Grand Lagoon where you may be picking up and dropping off your boat.
Since all the boat rental companies in Panama City Beach are on the Bay, you can do almost all the activities you want, including visiting Shell Island, without ever entering the Gulf of Mexico.
Do You Need a Boating License in Panama City Beach?
Florida does not require a boating license. However, it does require a Boating Safety ID Card. That is a certificate showing that you have completed an approved safety course. But, the card is not required for everyone.
According to the State of Florida Safety Education Program, if you were born on or after January 1st, 1988, then you will need to have a Florida Boating Safety Education I.D. Card (also called a boater's safety certificate, or a Boater Education Card).
If you were born before 1987 or earlier, then all you need is a valid driver's license. But, If you don't have a driver's license, then you will have to get a Boater Education Card.
If you do not have a Florida Boating Safety Education Identification Card (and were born in 1988 or later), don't worry. Most boat rental companies in Panama City Beach can give you a few minutes of instruction (if needed), and a test, then issue you a temporary certificate (sometimes called a temporary boating license) that is good for 90 Days. This is not a replacement for the actual safety certificate card which never expires.
Are Pontoon Boats Easy to "Drive"?
Pontoon boats are one of the easiest boats to pilot, even for beginners. However, never assume they are completely safe. Many accidents (and tragedies) occur every year on the water.
Plus, there are mishaps constantly in Florida such as people going swimming and forgetting to anchor their boat. This can be fatal if you are far from shore as your boat can quickly drift away leaving you stranded in open water.
But, one of the most common mishaps in Panama City Beach is pontoon boats running aground in shallow water. This is because there are sandbars and oyster beds where you would assume the water is deep.
There are lots of places to get stuck on. So, you should get familiar with channel markers and know when you are in a 'No Wake Zone'.
Popular Destination for Panama City Beach Boaters
There are several places to take a pontoon boat while on Saint Andrews Bay between PCB and Panama City.
Here are the two most popular:
St. Andrews State Park:
Many people take their rented pontoon boat to the jetties at Saint Andrews State Park.
You can anchor your boat off-shore and enjoy a day at the beach. You can swim or walk the sandy beach by the bay to the gulf front beach. Both are beautiful.
However, since you can drive into the park (for a small parking fee), it may make more sense to go into the park by car on a different day. Then, you can devote a seperate boating day mostly out on the water.
Shell Island:
Shell Island lies across from Panama City Beach's St. Andrews Park and is between the gulf and the bay. The only way to get to the "island" is by boat or jet ski. Okay, technically you could take a helicopter or swim. It's just 200 yards from the tip of St. Andrews State Park, so it would be a dangerous swim across a boating channel with rip currents.
Fun Fact: Shell Island is not an island but a peninsula and there are not a lot of shells.
If you rent a boat, you have to approach Shell Island from the bay-side. Most boaters find a patch of beach and land their boat there. Or, they drop anchor near a sandbar and walk or swim to the beach.
Tourists coming to Panama City Beach will generally pick a spot close by. But the locals tend to go about three miles down the bay before they anchor their boat.
Most of the docks at Shell Island are reserved for government vessels or commercial shuttles that have paid to dock there.
Mostly sunny with a chance of sand! #ShellIsland 🐚 🏝 😎 pic.twitter.com/HNPGI86nN7

— Panama City Beach "Seas the Day" (@PCBSeasTheDay) February 21, 2021
Florida's Shell Island is Skinny Enough to Walk Across
While on the bay, if you want to visit the ocean side beaches, don't worry. Shell Island is a thin strip of land so you can walk from the bay side to the gulf side. There are trails and wooden walkways to guide you.
A walk on the pristine beaches away from everything is very romantic and popular with couples.
Shell Island was an island at one time, but now there is a landmass connecting it to the Tyndall Air Force Base area.
While Shell Island does not have as many shells as its name implies, it does have gorgeous beaches. Keep in mind, it does not have any bathrooms or places to eat. It's simply pristine beach land.
If you are unsure about your boating skills, you can always rent a boat that comes with your own personal captain to take you there. Or you can hop on one of the many group shuttle boats that cruise to the island daily during the "on-season".
Dockside Restaurants near Panama City Beach
Growing up, we had a boat on the lake. Some of my fondest memories were taking the boat out and slipping into a slot at a dock by a lakeside restaurant. The family would have a great meal, then it was back to the boat.
With all the places to eat, it seems like Panama City Beach would be the perfect place to pull up a boat and enjoy a meal. But, that's not the case unless you get lucky.
There are only a handful of restaurants that offer boat "parking" adjacent to St. Andrews Bay. And of the ones that do – there are only a few slips available.
Add to that, these restaurants are usually packed. So, even if you can get into a slip, the wait time can be an hour or longer. This can really eat into your boating time if you are renting a boat.
Dinner view #uncleernies pic.twitter.com/zpezjmXNR0

— Victoria Dove (@vbparham) June 6, 2014
Pelican's in the Bay Point Marina was once a great place with plenty of slips to park and dine. However, Hurricane Michael wiped out the entire marina. Until they rebuild, they're not an option.
But, you can try your luck with the following:
Joe's on the Bayou
Uncle Ernie's
Papa Joe's
Barefoot on the Bay
Sister's of the Sea
Boondock's
Off the Hook
Captain Anderson's and Grand Marlin are on the water at the Marina. However, all the slips are reserved and not open to the public.
Where to Rent a Pontoon Boat in PCB Florida

There is no shortage of places to rent pontoon boats in Panama City Beach. Some of the rental locations include:
Adventure of Seas (next to Off the Hook)
Papa Joe's Pontoon Boat Rentals
Salty Pontoons
Captain Jack Marina
FunPCB
In the busy on-season, you often need to rent days or even weeks ahead to ensure you can get a boat. However, that also means you're rolling the dice with the weather. But don't fret if the forecast calls for rain a few days ahead of your planned boating day.
The weather can (and does) change quickly and a forecasted rainy day can turn sunny with little notice. And even a gloomy or drizzly day on the boat can still be fun. Just be sure and head back to the docks if the water turns too choppy or there's lighting or heavy rain.
At most rental locations, if it's raining, they will refund your deposit and let you out of your rental. However, once you get on the boat and leave the dock, there's no refund, even if it pours on you. So, just know that when you pull out, the rental fee is forfeit.
Have fun and happy boating.