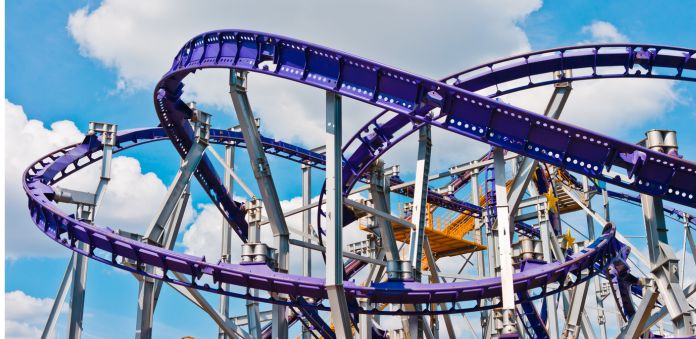 Curious about the difference between Disney World's Lightening Lane and Universal Orlando's Express Pass? Both offer shorter waits in lines, and both have different bargains.  
Both huge Orlando, Florida theme parks feature decidedly different experiences to enjoy and different ways to enjoy them. Be sure and check out How to Get the Most from a Universal Islands Adventure Vacation as well as Disney World Orlando – What to Pack for Winter Months. Now, let's unpack Disney's Genie+ & Lightning Lanes vs Universal's Express Pass – A 2023 Comparison.  
What Is Disney's Genie+ and Lightening Lane?
Disney's Genie+ launched in October 2021. The service is offered via the Walt Disney World app, and it also features Lightning Lane. Lightning Lane is basically a reimagining of the old Fast Pass. If you have a Lightning Lane reservation, you can bypass the standby line and use a special line to access a given attraction.  
Disney guests can reserve hour-long Lightning Lane return blocks for attractions using the My Disney Experience app. Though Genie+ has specific options available, each park also has a couple of individual Lightning Lane attractions.  
Of course, reservations to these attractions must be bought separately from the Genie+ system. This also means that a guest can reserve an individual Lightning Lane without needing to purchase a Genie+. 
A Little on Universal's Express Pass
Universal's Express pass is a line option that purports to cut wait times in half. Of course, it comes with an additional fee. Guests who buy the Express Pass are given the option of taking a special Express Lane queue that often gets them access to the attraction more quickly.  
The standard pass gets the guest through quickly, but only once per attraction. An unlimited option is also available along with the two-park option.  
What do Disney's and Universal's Pass Systems Cost?
Disney's Genie+ starts at $15 (plus tax) per person. Individual Lightning Lane passes will run you between $7 to $30 (plus tax) per person but can only be used once per attraction, per day. A family can buy the Genie+ and once Individual Lightning Lane pass per day for up to $140 (plus tax). 
On the other hand, Universal's Express Pass starts at $89.99 and can run considerably more. On a lot of days, the Express Pass can cost much more than $110. For perspective, during the week of Christmas a two-park Unlimited Express Pass will reach $279.99 per person – plus tax.  
A family of four looking to purchase a standard Express Pass may expect to pay upwards of $400 per person and that number can grow to $1200 during peak times at Universal. Of course, staying at one of Universal's Resort Hotels – like Loews Sapphire Falls Resort – comes with perks. One is an Unlimited 2-Park Express Pass for each guest for each day of your stay. Currently, Disney Resorts don't offer such a perk for guests.   
Touring via Genie+, Lightning Lane, and Express Pass
Disney's Lighting Lane is a ride reservation system which requires some pre-planning. If you reserve a spot on one attraction for a given time without a plan, you could still get stuck for hours waiting. Downloading the Touring Plans app can prevent a lot of the hassle. 
Universal's Express Pass, on the other hand, offers an as-you-go option for skipping lines. All you have to do is show up at the queue, scan the pass, and jump into the Express Lane. You may wait in line longer than in one of Disney's Lightning Lanes, but you clearly get in quicker. Plus using your Express Pass via Touring Plans makes it a breeze. 
 The Good, the Bad, and the Ugly
 We've established that the two parks offer a decidedly different product with different goals. On the one hand Disney's Lightening Lane requires you to plan out your day ahead of time via reservations to each attraction.  
Though this shortens wait times, it does require you to find things to keep you busy in the interim while, at the same time, not missing your reservation. So, basically, you trade flexibility for shorter waits in queue.  
Universal's Express Pass, however, claims to cut wait times in half.  From our research we've discovered that Express lines are generally shorter by 20 minutes with waits reaching all the way to 45 minutes with some attractions during busy times.  
Unlike Lightning Lane, Express doesn't require the use of an app to use it – you simply scan your ticket and gain access. So, though you lose the super short wait times, you gain the choice of when, where, and what you ride.  
Stay up to speed on all the hot spots and sweet destinations. Return to Travel Hop regularly for all the latest travel news and updates.