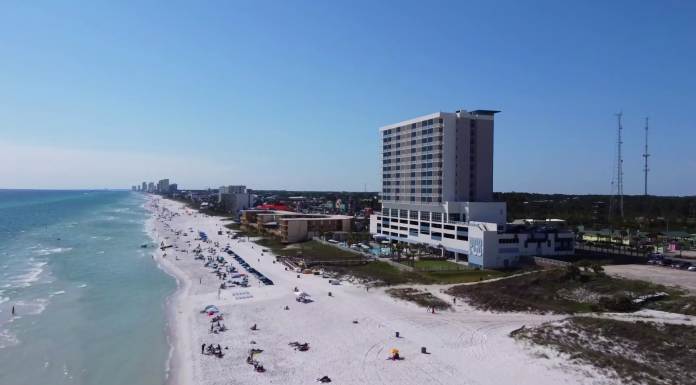 The locals in Panama City Beach eat in a lot of the same places the PCB tourist love to eat. But, there are a few smaller hidden gems that the locals know about. The area is famous for fresh local seafood with a relaxed vibe.
Lucky for me, I have lived in Bay County Florida. So, I have eaten at almost every place Panama City Beach has to offer.
Do Crowd Levels Affect Where to Eat in Panama City Beach?
One thing you need to know about eating in Panama City Beach is that during "on-season", many places are packed with huge wait times. On season is almost anytime between April and September.
Crowd levels are also dependent on the area. West PCB is considered anything from Pier Park into parts of the 30A area. And Central Panama City Beach Florida is places around Pineapple Willy's. Both these areas get hit with crowds first.
East Panama City Beach is where Captain Anderson's and Saint Andrews State Park are located. Generally, crowds are less, but around June and July the tourist start spilling over in to East PCB.
When things get too crowded with too many tourist in Panama City Beach, many locals head across the Hathaway Bridge into the City of Panama City and Historic Saint Andrews where you can many times eat without waiting for a table.
Famous Foods Locals Love to Eat in Panama City Beach
Panama City Beach has a huge variety of dining choices.
And, just because a place is famous across the country doesn't mean the locals avoid it.
But, when it comes to well known places, the locals are split. Most love them, but some avoid them as they are where the tourist go. These places are so well known that many locals avoid them because they packed with tourist causing long wait times.
So with that in mind, let's start with some of the more well know places.
Captain Anderson's – 5551 N Lagoon Dr, Panama City, FL 32408
You can't go wrong with Captain Anderson's. Some of the best seafood and super-fresh. It's great for an early dinner with the family, or a romantic dinner at night. And, Captain Anderson's has an extensive wine cellar.
Your best bet to get a table is to show up when they first open.
Pineapple Willy's – 9875 S Thomas Dr, Panama City Beach, FL 32408
Centrally located and on the beach. There is nothing better than a dinner at sunset on Pineapple Willy's back covered deck. All sorts of seafood and baskets of your favorites.
Schooners – 5121 Gulf Dr, Panama City, FL 32408
While it has a Gulf Drive address, it's parking lot is actually off of Thomas Drive. Schooners is called "The Last Local Beach Club" because it's a dying breed where locals gather on the beach.
It's the last restaurant/bar on (heading east) where you can eat and drink while on the beach.
Schooners has a great seafood gumbo and their seared crab cakes are wonderful. Plus, it's one of the best beach places to grab a drink.
Angelo's Steak Pit – 9527 Front Beach Rd, Panama City Beach, FL 32407
It's Panama City Beach's most famous steakhouse. It's the middle of PCB, just a few blocks north of the beach. You can't miss it because their is a big giant statue of steer out front.
Some locals love this place. It's huge, but always crowded and is closed off-season. One thing some people don't like is that it hasn't changed much over the years and the decor is dated. However, to me, that adds to the charm.
What was disappointing about Angelo's was the little things. They charge top prices, but skimp on little things like butter. They use a vegetable oil spread instead.
Andy's Flour Power – 2629 Thomas Dr, Panama City, FL 32408
Flour Power is fairly upscale and serves a great breakfast. It also has a bakery. But, get there early because it closes everyday at 2:00pm.
Dat Cajun Place – 2705 Thomas Dr, Panama City, FL 32408
This the place to go to for cajun style food. You can also get po' boys and oysters.
Dat Cajun Place is next door to Andy's Flour Power. So, many people park in Andy's parking lot at night (while it's closed) when they eat at Dat Cajun Place (and vice versa)
Uncle Ernies – 1151 Bayview Ave, Panama City, FL 32401
This is across the bridge in Panama City, but is well worth the drive. It's deck offers one of the best sunsets over the bay.
Locals love Uncle Ernies because it has docks out back so you can cruise up and park your boat.
So, Where do the locals eat in Panama City Beach?
The following places should check off the box for almost everything. They are family friendly with a huge selection that should satisfy almost everyone. These places are not too upscale and not too casual. I consider them the Goldilocks of Panama City Beach restaurants where locals eat.
C-Level Grill – Whether you want fresh seafood for a great steak, C-Level Grill is where many locals go. It's a family owned restaurant and many in the area swear it's the best restaurant in Panama City Beach.
Salty Sues – Salty Sues has a wide variety of food and some of the best hush puppies to be found. The crowds aren't too bad as it's a few blocks away from the beach.
Breakfast
The first place that comes to mind is Andy's Flour Power. And, the locals do eat there, but there are some smaller places that the locals in Panama City Beach Fl love.
Almost every place below closes at 2:00 in the afternoon.
Blue Top Waffle Shoppe – 2802 Thomas Dr, Panama City, FL 32408
Blue Top was formerly a Waffle House (or similar restaurant). But, when it was bought by the new owners, they painted to top blue and called it Blue Top Waffle Shoppe. Basically the same type food, but seems a little fresher as it's not a franchise. And, you get to meet the locals.
Fatty Patty's – 948 Thomas Dr, Panama City Beach, FL 32408
Fatty Patty's is a simple breakfast and lunch cafe. They also have desserts.
While the food is delicious, many locals go here because they serve gluten free buns. One of the few places that caters to GF customers.
Jesse's Place – This is a small place but has one of the best southern breakfast menus you will find anywhere. There country ham is the best I've ever had.
You can also get classic delicious comfort food for lunch.
Tudor's Biscuit World – If I only could eat at one breakfast place for the rest of my life, it would be Tudor's Biscuit World. I've been here MANY times and I go there everytime I'm in the area.
Of course their main menu item is biscuits. You can get them with fried steak, ham, sausage, gravy, bacon, egg, and lots of other combinations. But, they also have all your favorite breakfast items.
The biscuits here are a little bit lighter than most southern biscuit places. That's because they are actually a chain based out of West Virginia. But, it feels more like a small family owned place than a franchise.
Tudor's also has a wonderful lunch menu.
Bar-b-que
Back Beach Barbecue – 19714 Panama City Beach Pkwy, Panama City Beach, FL 32413
Some of the best barbecue you will find anywhere in the country. There's only a couple of BBQ sauces available, they are delicious.
Get their chopped pork or their brisket, both will delight.
Smok'n OZ BBQ – 2725 Joan Ave, Panama City Beach, FL 32408
This is a true hole-in-the-wall. It's a small (dare I say) shack that has the best bar-b-que I've ever had. It's owned by a veteran that does takeout only. And, you can't buy the meat by the pound.
I'm not a fan of baked beans, but many friends told be to try their beans… and I loved them!
Not a lot of people know about this place, but it should awards hanging over every inch of their walls.
Mission BBQ – 508 E 23rd St, Panama City, FL 32405
Across Hathaway Bridge is Mission BBQ in Panama City. It is a small chain, but their barbecue is excellent. Plus, they have a huge selection of sauces.
The establishment is veteran owned and is decorated with tributes to the military and first responders.
If you are a local, you should get a take-home plastic cup. Then when you come back, you can refill it for only a dollar.
Hidden Gems
Patches Pub – 4723 Thomas Dr, Panama City Beach, FL 32408
Patches is the last place to beach on the east side and is on the road that goes to Saint Andrews State Park. They have some of the best fish tacos you will find anywhere.
Christos Sports Bar and Grill – 2903 Thomas Dr, Panama City Beach, FL 32408
You won't find a lot of recommended restaurants that are attached to a gas station. But, Christos is so good that it's parking lot is packed every night.
It's standard bar food (wings, sandwiches and more), but it's cooked to perfection and tasty.
Beau's – 2304 Thomas Dr, Panama City Beach, FL 32408
Looking for something besides seafood while in Panama City Beach FL? Beau's is a little place with lots of great southern food.
The place is small and you order from the counter. If you like things like southern fried chicken, cornbread and cheese grits, then you will love Beau's.
J. Michaels Restaurant – 3210 Thomas Dr, Panama City Beach, FL 32408
J Michael's says they are "a little Southern, a little Creole, and a lot of hospitality". Not only is there good food, bu the service is great. It has some of the best red beans and rice in PCB as well as lots of fried food.
Here's some local folklore: I was told that if a jet pilot from Tyndal Air Force Base "buzzes" the eatery (i.e. Top Gun style), then they get a free drink. Based off the number of jets that do fly bys overhead, it may be true.
Shuckums Oyster Pub & Seafood Grill – 15614 Front Beach Rd, Panama City, FL 32413
Shuckums is an oyster bar close to Pier Park and is a favorite hangout by the locals. The bar tender told me that the locals come in early and many leave early as the place begins to fill up with tourist.
It's off of Front Beach Road, so it is smack in the middle of the crowds. But, it has a big parking lot in the back, which many places don't have. Because of it's location, most of the locals are from the Bid-a-Wee area.
While it has the standard fare (burgers, seafood, steak, and of course oysters), the cooks there are some of the best you will find anywhere.
Off The Hook – 5711 N Lagoon Dr, Panama City Beach, FL 32408
This is an outdoor bar/restaurant that is right beside Adventures at Sea, a place that rents Pontoon boats. The main area is a tiki hut, and all the tables are open air with a tiki hut type covering. Off-The-Hook has live music and allows dogs.
Many of it's guests walk over from Bay Point subdivision and bring their dogs. It's not unusual to see the same locals there almost every night. Plus, there's a couple of spots where locals can come by boat.
Upscale Dining Experience
Grand Marlin – 5323 N Lagoon Dr, Panama City Beach, FL 32408
Probably my favorite place to go for dinner in PCB. Shrimp, fish, steak and more.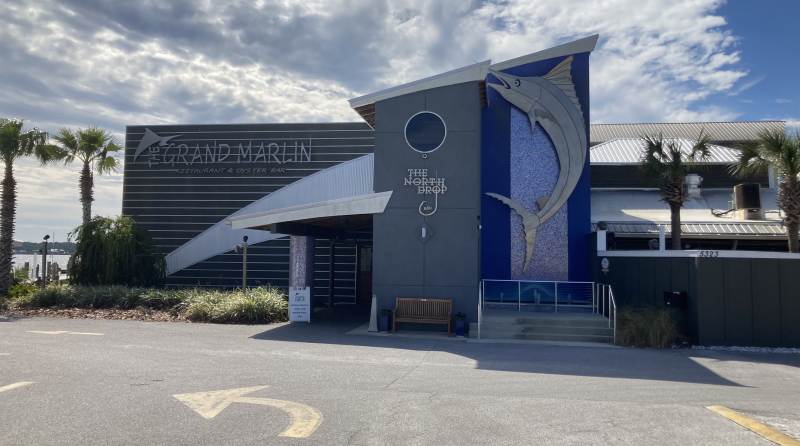 The first floor is fairly formal. But there are open air tables on the second floor with more casual seating.
Both floors have a great view of the marina.
Saltwater Grill – 11040 Hutchison Blvd, Panama City Beach, FL 32407
The atmosphere at Saltwater Grill is wonderful. There is a large aquarium in the background and piano bar music.
Steaks, lobster, risotto, seafood pasta, and more. This place has it all. Many locals come here for special occasions.
Firefly – 535 N Richard Jackson Blvd, Panama City Beach, FL 32407
Don't let the outside fool you. It's located in the Shoppes at Edgewater (Yes a strip center). But the inside is upscale and romantic.
Firefly Restaurant offers a unique dining experience under a lit-up oak tree in Panama City Beach, Florida.#Foodspotting #SashaInPCB #Eater #EatOutToHelpOut #Foodiechats pic.twitter.com/QXLoafd1V7

— Sasha (@SashaEats) March 15, 2021
This is the place I recommend to my friends when they say they want a romantic night out.
It's also the best place in Panama City Beach to go if you are gluten free. They have a salad bowl made from baked Parmesan cheese, that tastes just like bread. And, their creme brulee is the best I've ever had.
My only complaint is that they have gotten rid of their flour-less chocolate cake.
Keep Exploring
Since Panama City Beach is a tourist town, there are many (and many) places to eat with great food. So, when visiting, don't forget to just drive around and try out the ice cream shops, donut places, or a Jin-Jin restaurant (Most other places call these Chinese Restaurants).
Or, while walking along the pristine white beaches, pop into a beach front bar and grab a drink to go. You are allowed to drink on the beach (except in March).
Bottom line: Because the competition among restaurants is so fierce in Panama City Beach, a bad eatery will not survive. So, pretty much almost anyplace that has been around for a few years will have pretty good food and will be a place where the locals eat.