Orlando, Florida has always had a great food scene but recently it has exploded with food trucks. The foodie scene in Orlando has shifted from theme park venues and prolific chain restaurants to fresh, locally owned restaurants. And now, food trucks have grown so much in popularity that you can now find some high-quality restaurant food served to you from atop four wheels.  So, let's discuss the Top 5 Food Trucks in Orlando, Florida. 
#1 Sushi and Seoul on a Roll
Sushi and Seoul on a Roll have been serving up fresh sushi since 2011. Here (or there) you can find raw fish delicacies and Asian-inspired cuisine. Sushi and Seoul's owner, Al Ruiz, reportedly has a direct line to some of Central Florida's freshest seafood, such as live oysters, scallops, bluefin tuna, and Atlantic geoduck. 
They're located on Palmetto Ave in Orlando. Sushi and Seoul offers delicious sushi combinations like the Holy Goat roll which is seared yellowfin tuna, tiger shrimp and goat cheese, served with a honey-wasabi aioli, or Poison Ivy – a Panko encrusted and fried tempura deluxe veggie roll, and more.  
#2 Bem Bom on Corrine
Honored by the Orlando Sentinel Foodie as Restaurant of the Year in 2020, Bem Bom on Corrine has literally reinvented the food truck wheel. Opened in 2012, Bem Bom boasts authentic Portuguese delights such as gourmet tacos and pastries. 
At Bem Bom you'll discover a chicken sandwich made with a traditional piri-piri marinade. For dessert, try the Nata, an egg custard tart that was made by Portuguese monks in the 18th century. 
#3 Woodson's Wrap Shack
Woodson's Wrap Shack can be found in the Downtown / Central Business District / CBD, South Eola areas of Orlando. They offer a variety of wraps including the Cuban Wrap made with Mojo pork, ham, Swiss cheese, pickles, and mustard.  
The menu has a vast selection of wrap ideas like the Mediterranean Wrap, the Tropical Fish Wrap, or the Chicken Po'boy Wrap, to name a few. And each wrap contains a unique blend of ingredients. You can also choose from a selection of fries loaded with delicious combinations like Bacon Chicken Ranch, Veggie, and Steak.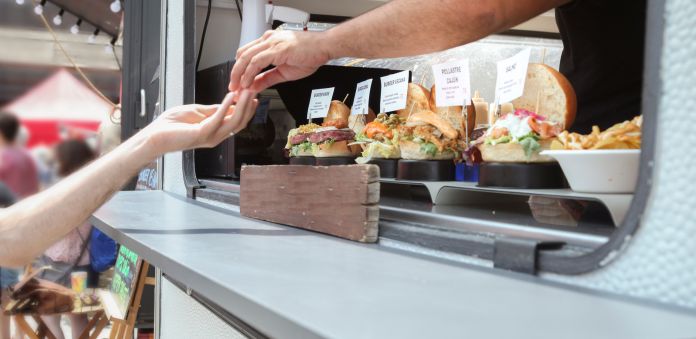 #4 Treehouse Truck
In the food truck business since 2011 and can be found in various places in the Orlando area. The Treehouse recommends that you follow them on social media (here) to suss out their location at any given time. 
Certainly, no sushi truck, they serve some juicy, grade-A beef burgers like the GC Luther. It's a bacon cheeseburger wedged between 2 grilled cheese sandwiches. What stands out? These beef patties are snugly wedged between Krispy Kreme Doughnuts instead of traditional hamburger buns.  
#5 Swede Dish
Located in the Ivanhoe Park Brewing Company on Alden Rd in Orlando, Swede Dish is a unique truck that first hit the road in 2011. Owned by a Swedish husband and wife team the truck plays on Swedish themes.
You can find dishes like Swedish meatballs, topped with gravy and served with mashed potatoes, lingonberry relish, and a pickled cucumber and dill salad. Be sure and stay up to speed on all the hot spots and sweet destinations in Florida. 
Return to Travel Hop regularly for all the latest travel news and updates.