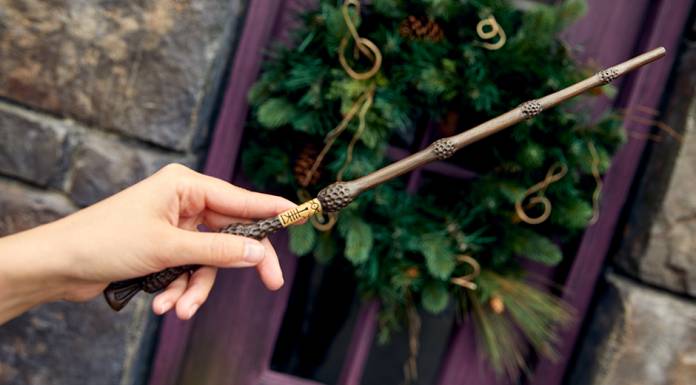 When you visit Universal Orlando, you will want a Wizard's Wand to cast spells. Because, there are magical powers located in Universal's Wizarding World of Harry Potter.
To unleash these mystical powers and cast spells throughout the Universal Theme Park, you must first make sure you are prepared. Before heading to release your magic, here is what you need to know to cast spells in Universals Wizarding World of Harry Potter.
Where to Buy Your Harry Potter Wand
The first thing you will need to cast magical spells throughout the Universal Theme Parks is a Magical Wand. You can buy these wands two different ways, online before heading to Universal, or in Diagon Alley and Hogsmeade in The Wizarding World of Harry Potter.
Both places offer wands for the same price but buying your wand in the park offers you a fun experience, letting you feel enchanted.
In both Diagon Alley and Hogsmeade, you will find Ollivanders Wand Shop.
This is by far the most popular place any witch or wizard will buy their wand. At Ollivanders, groups will come into the small wand shop. The wand keeper will then choose one witch or wizard for a wand fitting. The person selected will then try out several wands until the spell they cast works for them.
If you are picked for the fitting, you will be shown the perfect wand for you. You do not have to buy this wand.
Buying your wand in the park is preferred because if you have any problems with your wand, you can take it back to the store you purchased it from, and they can exchange it for a new one.
Make Sure You Pick the Right Wand – Traditional vs. Interactive Wand
When you are buying your wand, make sure you purchase one of the Interactive Wands offered at Universal and not the Traditional Wand.
You can buy an interactive wand at Ollivanders for use at magical spots in Hogsmeade. #HarryPotter #UniversalToday pic.twitter.com/7eVh2DKr0P

— Wayward Nerd (@waywardnerd) June 25, 2016
Unlike the Interactive Wands, Traditional Wands have no magic in them, leaving you powerless. Both wands are close to the same price, the Interactive Wands are only a few dollars more.
Follow The Map that Comes in the Box
When you purchase your Interactive Wand, you will find a park map in the box your wand comes in. This map is your key to where you can cast spells throughout the park.
The double-sided map shows both Universal Studios and Island of Adventure Theme Parks. You will find marks of all the locations through The Wizarding World of Harry Potter, where you can use your new wand. There are nine locations to perform your spells in Hogsmeade and sixteen places in Diagon Alley.
There are two secret locations in Diagon Alley you can cast spells, not on your map. The first is near Scribbulus Ink Shop. You will find an interactive spell in the window of the shop entrance you can use your want to write on the blank scroll. The second is in the window of Slug & Jiggers Apothecary. Cast your spell in the window, and you will see a fun surprise.
Look for the Bronze Medallions
When you follow your map to a location with magical powers, look for the Bronze Medallions. You can find these medallions in the street, and there is an arrow pointing in the direction where you can cast your spell.
How to Cast Your Spell with your Wizarding Wand

Once you have found the medallion and direction to cast your spell, make sure you have a tight grip on your wand. I have seen many people have their wands fly out of their hands from not having a good grip and making expressive movements. Have fun using your enchanted wand around The Wizarding World of Harry Potter At Universal Studios while casting wondrous spells fun for the whole family.
ave you had a chance to cast a spell at the Wizarding World of Harry Potter in Orlando? Let us know which spell was your favorite!