There are hundreds of dive bars on the Forgotten Coast and specifically in Pensacola, Florida. But a few of them stand above the rest because of their historic status. 
From the Alabama-Florida border to Pensacola Beach, Pensacola dive bars have a long history of serving up food, drink, and debauchery.  
Let's dive in to 5 Historic Pensacola Dive Bars. 
#1 McGuire's Irish Pub
McGuire's Irish Pub opened in 1977 as a small neighborhood pub in a shopping center. In 1982 they moved to Pensacola's original 1927 Old Firehouse. 
As you pass the pub's doors you're transported to a turn-of-the-century New York Irish Saloon-themed restaurant. The dive boasts a whopping 615 seats, so you'll have no problems getting a table. 
#2 Pensacola's Renowned Florabama Lounge & Oyster Bar
Located on Perdido Key Dr, in Pensacola, The Florabama Lounge & Oyster Bar opened in 1964. This waterfront bar & grill boasts oysters, pub grub, and live music on the daily.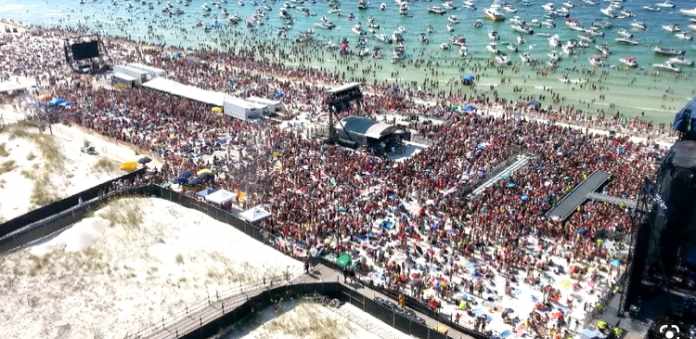 There is a long and rich history behind the creation of the Florabama Lounge. However, long story aside, the end result is a unique and even world-famous bar that celebrates diversity and brings people from all walks of life together in one place.

Five stages feature live music, and three restaurants will surely be able to satisfy any taste. And if all that wasn't enough, the joint has church on Sundays! Learn more about it here.

#3 The Wisteria Tavern
The Wisteria Tavern is a cozy little dive bar with a rich, 80-year history. It began as a grocery and supply store in the early 30s. In 1935, when the State of Florida first issued a "Beer only" liquor license to the budding establishment, Wisteria Tavern took root. 
You'll get plenty of drinks and live music. And, if you're hungry, step outside for some hot wings or fried chicken from the  What the Cluck Chicken Truck which is always found right outside. 
#4 Seville Quarter
Located off E Government Street the Seville Quarter is a sprawling venue. Built in 1967, it boasts seven themed rooms including a pool hall, and dance club, as well as many dining & bar options. 
There is Rosy O'Grady's which is hailed as the birthplace of the Seville Quarter. It features beer, peanuts, and Dixieland jazz. There are six other themed rooms where you can enjoy a new and unique experience. 
The food choices at the Seville Quarter are numerous. From Cajun Chicken Pasta to short-rib grilled cheese the Seville has you covered. 
#5 The Handlebar
in Pensacola

The Handlebar opened its doors in 1983. Since then, it has served as a community gathering space for all types of crowds. After the building caught fire in 2001, it eventually reopened, but ultimately closed its doors for good in November of 2018. 
However, they once again opened their doors last year and are once again serving up punk rock and hip-hop. This bar doesn't serve food but is surrounded by food trucks and restaurants. 
Be sure to heed all the beach warning flags if you choose to swim in the ocean in Florida.
Return to Travel Hop regularly for all the latest travel news and updates.