Nothing beats traveling on a private jet. In addition to skipping the security line, you get ample leg room to stretch your legs, and more comfortable seats (or even a bed). And, of course the in flight concierge service.
But, the main advantage of flying private is that you control your time. You are not at the mercy of the airlines. The only layovers you will have is when you want to stop somewhere, or you have to stop for fuel.
When flying on a smaller jet, you can land at airports with shorter runways. This can be a huge time saver since you can take off closer to home and land closer to your destination.
Also, you are free to do things on a private plane that you can't do on a commercial airliner. You can take off your shoes and socks while you massage your toes. You know, the things that will go viral on Instagram if you do it on a commercial flight.
And, if you own your own private jet, you can smoke on it.
Can it be expensive? Yes. But read on, because there are deals to be found when you rent a private jet.
How much does a private jet charter cost?
When you charter a private jet, there are many costs involved that will decide the final price you pay. And, these flight cost are completely different than what you will pay to fly commercial.

When you take a commercial flight, you will pay for the number of seats you book, the class you want to fly in (first class, coach, etc.), and the miles you will travel. Then you will pay a higher price as the take off date approaches.
When you pay for a private jet rental, your main cost will be controlled by the type of aircraft you charter. So, a small turboprop plane will be a lot less than a luxury Lear Jet charter rental.
After the type of plane you rent, what will then control the cost is number of hours the private jet's engines will be running. Beware of the term "per flying hour" – it sounds like you only pay for the time in the air. But, many places charge for the time you taxi to the runway or sit on the tarmac with the engines running.
When it comes to charter pricing, you can find a small prop plane (a plane with propellers) for under $2,000 an hour. But, a state-of-art luxury private jet can run up to $20,000 per hour.
Also, the hourly rates for charter flights will fluctuate along with the cost of fuel and demand. So, holidays, vacation times, and weekends tend to be more expensive.
Additional cost to rent a private
When you rent a private jet, the basic cost of flight and crew are covered. This includes the fuel, airport fees, and the salary of the pilots and crew.
But, there are additional costs associated with flying on a private jet that you should know.
Here are things not included:
Food and Catering – You may have to pay extra for bottled water, beverages, snacks and meals. Think of it like staying at a hotel. While Hilton will give their diamond guests a couple bottles of water and cookies when you check in, expect to pay for that beer you grab from the mini-fridge.
International Fees and Taxes – If you plan to cross a boarder, then expect to pay the fees involved.
Repositioning Flights – If you fly one-way, then you will have to pay to get the plane back to its home base. Or, you may get lucky and the plane is needed in a close by city where you only have to pay a small fee to reposition the plane. When an airplane flies empty, it's called an Empty Leg flight. These empty flights area a great way to rent a private jet on a budget (and we'll tell you how).
Overnight Crew Fees – When you fly to your destination, you have to remember that you are taking a pilot and crew with you. If you plan to stay overnight, then you will have to pay "overnight crew fees". This fee will cover hotel stays for the pilot and crew, along with their salaries, and a per-diem to cover their expenses.
Segment and Federal Taxes – If you fly within the U.S. you will have to pay a Federal Excise Tax (FET) along with a Segment tax. These taxes are set by the Federal government.
Overnight Parking Fees – When you stay overnight (or for several days) at a location, you will have to pay to park the private jet. Just like when you leave your car at the airport and have to pay for parking.
What is a private jet card membership?
The easiest way to fly private, is to get a Private Jet Card. These are membership cards and work like a debit card. A Jet Card Membership allows you to prepay for all your flying. There are dozens of private companies that issue jet cards, including Delta Airlines private charter jet division.
With a Jet Card membership, you will buy hours of use on a private jet. You will select the size of private jet you plan to charter. It can be a light jet, mid-size jet, or a heavy jet that can accommodate up to 14 passengers.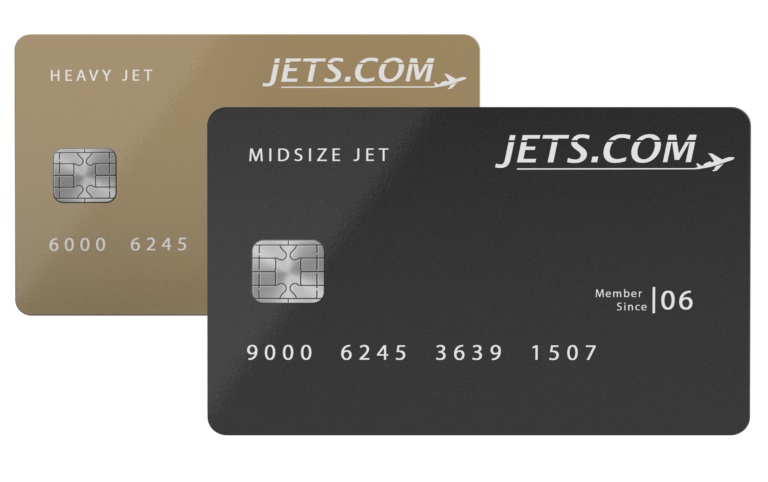 Some jet card companies have hourly rates as low as $2,000 per hour while others can be as high as $10,000.
If you go the jet card route, be prepared to fork over a hefty deposit between $20,000 to $100,000 to be added to your pre-paid membership card.
There was also a company called Beacon that billed itself as the Netflix of Private Jets. Flyers could pay a low monthly fee ($2,000 a month) and take unlimited flights between Boston and New York. The website Fly Beacon shows that the company also planned to cover the Hamptons. But sadly, Beacon is longer in business.
There's a private jet app for that
Another way to easily book a private jet is with an app. With an app like UberJets, you pay as you fly.
Back in the day, you had to spend time calling a private jet charter company, get the rates, then arrange a wire transfer of payment from your bank.
But, with a private jet app, you simply use your phone to request a flight, the select an available private plane, the book and fly. It's all done with a few clicks and you payment preferences are already on file.
It's almost as easy as ordering an Uber or a Lyft.
What are empty leg deals and how do they work?
Getting in on Empty Leg Flights is by far the cheapest way rent a private jet. Empty Leg flights are also called Positioning Flights or Ferry Flights.
As we described earlier, and empty leg flight is where the private jet has to be transported from one airport to another with no one on board. Therefore, you can't rely on catching an empty leg flight to suit your convenience.
These flight are created when an air charter is a one-way flight and not a round trip. Or when the charter service has to fly their plane to have routine maintenance performed.
The thing about empty leg flights, is that most of the time they are leaving from small airports. So, it's handy to know all the little airports in your area to be able to pick up on one of these deals.
EMPTY LEG ALERT
Date available: 13 – 14 March 2022
Flight: Stansted (STN) – Tel Aviv (TLV)
Aircraft type: Legacy 500
Seats: 8
Flight time: 4h 40min
Reserve this flight now: Tel: +44 131 478 0802 | Email:
[email protected]#privatejet #jetcharter #emptylegs #London #telaviv pic.twitter.com/ga8TpCOZ41

— Pawel Slotwinski (@paweljetlogic) March 8, 2022
The flights are sporadic, but sometimes the airplane doesn't have to be at it's destination location for a few days. So, you may be able to pick which day you want to leave it falls within their schedule.
Empty leg trips are always one-way. So, you will have to book your own return flight if you want to fly back home.
When it comes to price, sometimes the company will give you an up-front price. Other times, you may have to contact them and negotiate. But, generally you will get about a 75% discount.
You can find a list of empty leg flights at Sun Air Jets or at Jettly.
For more info, Travel Hop has guide on How to Find Empty Leg Flights.
How much does it cost to buy a private jet?
Some people are able to go all out and buy a private jet. While this is not an option for most of us, let's take a quick look at the cost anyway.
A decent relatively new used light jet will set you back at least one million dollars. You can go with something like a 2010 Cessna Citation Mustang. It's a bargain at $1.7 million. But, it only seats 4 passengers. So, if you have more than a couple of kids, you'll have to go bigger.
A 2018 Gulfstream G650ER will drain over fifty million dollars from your bank account. But, it seats 16 people. And you can finance it with payments of only $270,000 a month.
When you own your own plane, you also own the problems. Maintenance, pilot and crew salaries, overnight crew stays, fuel, taxes and everything else all take its toll. Many time the cost of even a light jet can cost a million dollars per year. Several millions of dollars for larger jets.
Bottom line, unless you plan to fly a lot, renting a private jet will probably be a lot cheaper.
But, if you really want to own your own private jet, a more affordable option is Fractional Ownership. This is where you buy a fraction of a jet (anywhere from 1/16 to 50%) and share it with others. The sales pitch is easy, Why buy 100% of a plane with you'll only use it a fraction of the time.
With fractional ownership, each owner is allowed a certain number of hours per year according to how much of the plane they own.

For only $75,000 you can buy 1/16th of a 1987 Cessna Citation and use it for 75 hours every year.
Even with fractional ownership, you still have all the real additional costs of owning a private jet.
How Much Does It Really Cost to Rent a Private Jet
Now that we know the benefits of flying on a private jet and how it works, let's dig into some actual numbers.
Keep in mind that since the pandemic, the requests for private flights has more than doubled. So, prices keep going up. And, fuel prices are also going up. We will use the rates from Paramount Business Jets.
Here are some average cost to charter a private jet per flying hour:
Very Light Jet – Seats 2-4 | $2,300 per hour
Light Jet – Seats 6-7 | $2,850 per hour
Super Light Jet – Seats 8 | $3,250 per hour
Midsize Jet – Seats 8-9 | $3,750 per hour
Super Midsize Jet – Seats 10 | $5,150 per hour
Large Jet – Seats 16 | $6,800 per hour
Ultra Long Range Jet – Seats 16 | $9,500
Jet Airliner – Seats 50 | $20,000 per hour
Save Big by Renting a Bigger Plane
It may sound crazy, but going bigger and paying more per hour can save you money.
When chartering a private jet, there are two things to remember. First, a smaller jet is slower. Since you're paying per hour, paying more for a faster private jet charter may cost you less.
Second, bigger jets have larger fuel tanks. So, a smaller plane that has to make frequent stops, may eat up all the savings you've gained by renting a smaller and cheaper jet.
For instance, you and a friend want to fly 1,400 miles to the World Series. You could get the cheapest plane (a very light jet at $2,300 per hour), While the total flight time is only 4 hours, you will have to pay for a fuel stop which can add an hour to your trip time. Now you are paying for 5 hours of time. The total would be $11,500 or $5,750 per person. But, the plane seats 4 so you can get two more friends to come along and the price drops to $2,875 per person.
Compare that to the same trip on a large jet. While the rate for a large jet may be $6,800 per hour, it's a lot faster. A large jet can make the trip in 2.8 hours and not have to make a fuel stop. Plus, it seats 16 people. So, if you had 15 friends all chipping in, the price is only $1,190 per person. Now, we are talking less than the price of a first class commercial airline ticket.
For ease of calculation, the above examples don't include any additional fees that are sometimes associated with private jet charters.